NA Startup –  Back to the Future
Il 21 ottobre NAStartUp  è ritornato  con il suo evento open e free allo Slash, via Vincenzo Bellini 45, una tra le location più apprezzate dalla community.
Il 21 ottobre 2015 è una data speciale per gli appassionati di fantascienza e di cinema…infatti mercoledì prossimo una vecchia DeLorean dotata di flusso canalizzatore apparirà da qualche parte, e ne usciranno Doc e Marty. che in Ritorno al futuro II puntarono l'indicatore della loro macchina del tempo proprio sul 21 ottobre 2015. La community di NA Startup farà omaggio all'evento con dei pitch speciali!
Da settembre NAStartUp ha lanciato la sfida di costruire dal basso un network europeo in grado di collegare le capitali europee più dinamiche sulla scena dell'innovazione. Dopo Barcellona, l'altro ecosistema esplorato è stato quello di Berlino. Ad ottobre infatti il  team di MeetUPro – web app che permette di inviare richiesta di assistenza ai 5 artigiani più vicini – ha vinto un viaggio proprio nella capitale tedesca(Il viaggio e il soggiorno sono stati messi in palio dagli sponsor: Metan Tecno srl ,Sintesi Sud ,  Hiltron e Contra.)
I ragazzi  di MeetuPro racconteranno alla community la loro esperienza resa possibile anche grazie alla community italiana DigItaly a Berlino.
Il network europeo costruito da NAStartUp si amplia sempre di più. Una delle sorprese dell'edizione 16 bis sarà proprio una startup di Malta che sarà presente durante l'evento. L'obiettivo non è infatti solo conoscere gli hub europei più innovativi ma anche far conoscere il modello di sviluppo di NAStartUp a player stranieri.
Aspettando NAStartup > Minicorso sull'  E-commerce Management
Quirino Picone, esperto in e-commerce management, a partire dalle 17.30 spiegherà quali sono le opportunità offerte dall' e-commerce per le imprese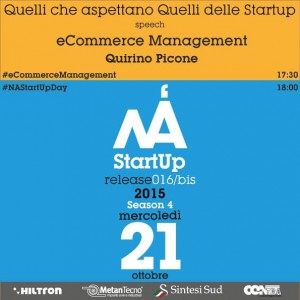 Le startup Protagoniste
ItaliaToday blogger community in cui gli  utenti possono interagire tra loro, scambiarsi messaggi ed organizzare e partecipare a forum di discussione interni.
Sfreedo web app che consente  di scegliere e/o acquistare prodotti alimentari prossimi alla scadenza, evitando sprechi alimentari.
Mio Garage piattaforma web per condividere il proprio box auto per periodi di tempo più o meno brevi.
Thought3D lancia un nuovo rivoluzionario adesivo per la stampa 3D MAGIGOO che facilita  la rimozione della stampa dalla superficie di costruzione senza deformarla eccessivamente.
Spazio Social Innovation
Centro Hurtado luogo di formazione per i ragazzi di Scampia presenterà il progetto "I ragazzi di Scampia", finalista del concorso Nati per proteggere promosso da Axa Assicurazioni
Stazione di Posta 108 open house dove si può studiare e lavorare condividendo gli spazi e pagando solo il tempo che vi si trascorre
Spazio Community
Alessandro Manna  presenterà l'iniziativa "Premio Siti reali per la #Dietamediterranea" con incontri e itinerari tra cibo, arte, archeologia, scienza ed eventi nei maggiori siti culturali della Campania
Agenda:
17:30-18:00 Mini Corso Gratuito Le opportunità offerte dall' E- commerce
18.00- 18:15 Presentazione Attività e Scenari
18.15- 18:45 Pitch Startup Selected
18:45 -18:55 Spazio Social Innovation
18:55- 19:00 Spazio Community
19.00 -20.00 FreeTime Networking
Registrati per accedere all'evento Gratuito e saltare la registrazione all'ingresso! – https://www.nastartup.it/biglietti 
NAStartUp è un evento periodico che nasce dall'idea di Antonio Prigiobbo, Innovation Designer  e Autore di Format e da Antonio Savarese, giornalista specializzato in innovazione tecnologica, con la collaborazione di  Gianluca Manca CEO di Intertwine e Giovanna D'Urso, blogger e cofounder di EVA
NA StartUp è realizzato in Autoproduzione grazie anche alla partecipazione di partner che partecipano al progetto: BeGraphic.it, Carlsberg Italia, iPins, ed al supporto e alla sponsorizzazione di Metan Tecno srl ,Sintesi Sud,  Hiltron e Contra.
Le foto dell'evento sono realizzate da Studio fotografico Primo Piano ed i video da Uncosofactory
FB Page: https://www.facebook.com/nastartup/info Group: https://www.facebook.com/groups/nastartup/
–-
Coordinamento/Comunicazione Antonio Prigiobbo  m +39 338.6866456 / antonio.prigiobbo@gmail.com / t @killermedia
PR – Antonio Savarese  m +39 3336364148 / antoniosavarese@gmail.com / Skype – antonio.savarese